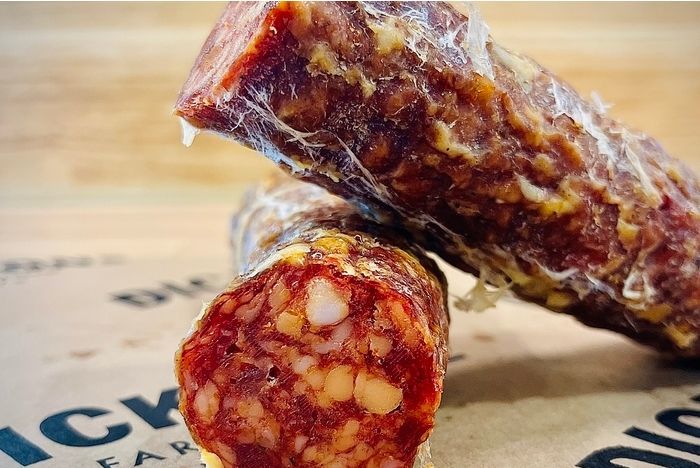 Maya Salami (House Made)
$15.00
Maya salami is inspired by the flavors of the Mexican dish Cochinita Pibil- slow-roasted pork marinated in a special blend of ingredients including cinnamon, allspice, and achiote (annatto) seed.
Made with Berkshire Pork from Sir William Angus in Craryville NY.

SIZES
MINI/SNACK STICK - These small salami are stuffed into sheep casings and aged for 2-4 weeks.  Slice into rustic pieces or simply take a bite! ≈1/2" diameter.

MEDIUM - Our medium salami are stuffed into hog casings and aged for 3-5 weeks.  Easy to slice for snacking, a charcuterie board or a picnic basket. ≈1" diameter.

LARGE - Our large salami are stuffed into beef middles and aged for 5-8 weeks. Slice thinly for charcuterie boards or sandwiches. ≈1.75" diameter.
Store in the refrigerator wrapped in paper to avoid drying out.